Milk has always played an important role for Waldner. The former company director Anton Waldner came up with many ideas for the white gold from Allgäu. Today, we will be talking about one of his quirky ideas. A glimpse into the history of Waldner, which still exists today.
For generations in Wangen, it was indispensable: The "Milchpilz" (Milk Mushroom). A kiosk in the shape of a mushroom – with a white spotted red balloon silk roof. If you wanted to make plans or meet someone – especially in a time when there were no cell phones – you were told, "Meet at seven o'clock at the Milchpilz" and everyone knew what to do.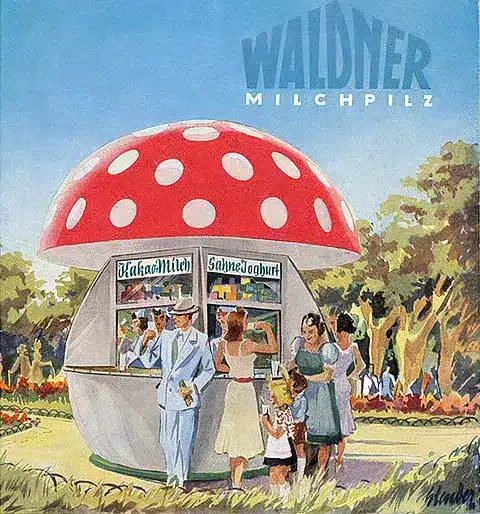 But it was not just a landmark in Wangen, a point of reference, kiosk, exhibition stand or meeting place for young and old. Around fifty of these dotted sales houses were built by Waldner in the 1950s and sold to Austria, Benelux, Italy and Switzerland, among others. Even in Greece, on ancient earth, a Wangen mushroom grew from the ground. Although, as mushroom collectors know, the mushroom season is usually quite short, some of the Waldner milk mushrooms have survived to this day: for example beautiful specimens can still be admired in Wangen or in Bregenz, Lindau, Regensburg or Borgolzhausen. 
In post-war Germany, milk and dairy products were meant to be brought closer to the population as an important part of a healthy diet. Anton Waldner saw an opportunity in his business idea, which was entirely based on milk, to develop and market his own products for this purpose. As they say, one thing leads to another. The idea of the Milk Mushroom came at the right time. The first milk kiosks and bars were created, and of course, Waldner was full of enthusiasm. Complete milk bars and dairy restaurants were designed, built and equipped, not only with furniture, but with everything that goes with it – from the refrigerator to the ice cream machine, to the milk cups and even the yogurt spoon. "Everything from one source" was already a very successful business idea back then. 
But how does one come up with a mushroom idea? Actually a crazy idea! Besides his abilities as an inexhaustible idea generator and organizational genius, Anton Waldner was also an excellent marketing expert – even if that wasn't called that back then. The new product was supposed to have a high level of recognition, ensure hygiene and freshness of the products and radiate it – a concept that made sense! The mushroom form created an eye-catching and memorable appearance with high signal character. As history proves, Waldner was once again ahead of his time. If you look at today's fast-food chains, you can recognize the same principle. McDonald's, for example, was only founded in 1955. The press also paid attention to this business idea. In "Stern" or in "Der Erfolg," the Milk Mushroom was enthusiastically commented on. But the Waldner Milchpilz did not meet with universal approval. There were also critics, first and foremost among the authorities who had to approve the erection of a sales hut.
But in most cases the mushrooms were popular. The owner of a Milchpilz in Kaiserslautern wrote in the daily newspaper "Rheinpfalz": "When it was really hot outside, the regular customers brought ice cream and bowls with them, and the patrolmen from Gaustraße always came round in the morning – for coffee and rolls". The Milchpilz has long since achieved cult status, and even more than 50 years later it still has numerous fans. So it is hoped that one or the other milk mushroom will also sprout on the grounds of the "Landesgartenschau", which will take place in Wangen in 2024. Let us surprise you.